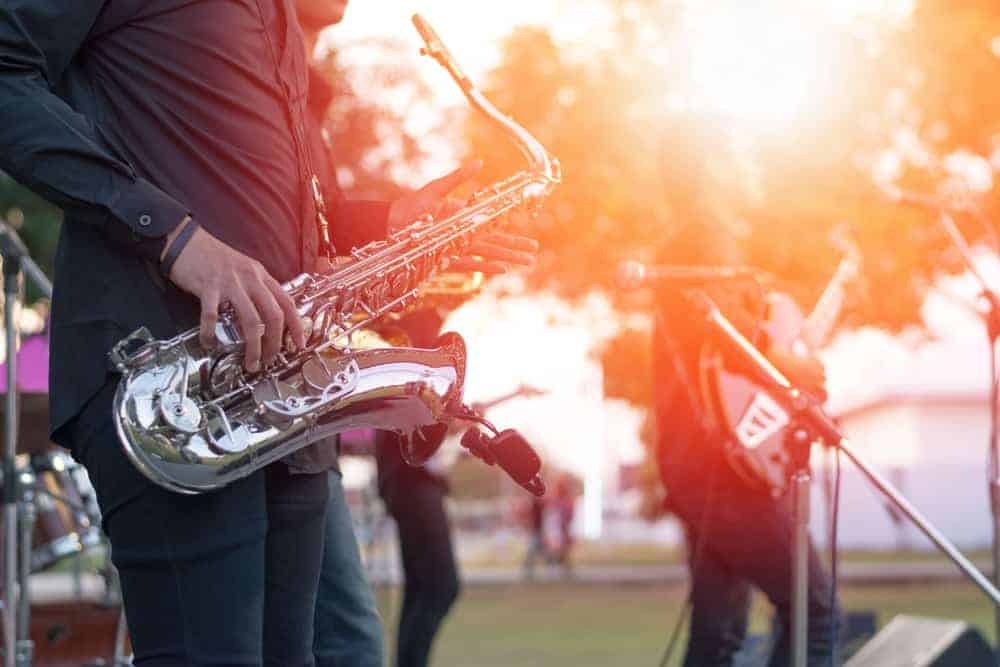 How To Become a Jazz Musician
Career Description
Professional Jazz Musician Danny Janklow has performed/recorded with some of the biggest names in contemporary music, including Kendrick Lamar, Herbie Hancock, Wayne Shorter, and Stevie Wonder.
He says, "On any typical day I'll get up and prepare, warming up on my instrument and finding the right reed or something. Usually, I'll have a recording session and do two or three hours for somebody (sometimes it's five or eight hours.) Or I'll do a writing session, a teaching session at a high school or university, or a rehearsal during the day.
"I'll be at my gigs for soundcheck by five or six and then we'll play music. It's very different every day. There's a lot of studio work I do during the day, [or] sometimes at night. Sometimes I'll be on the road touring and that's a whole different schedule with traveling."
Musicians take on many different roles within their industry and their community, according to their talents and financial needs. At times they assume the roles of Session Musician, College Music Teacher, Private Instrument Teacher, or Composer.
Salary
The average annual salary for a working Jazz Musician is $50,900. The salary range for full-time Jazz Musicians runs from $31,000 to $88,000.
Income varies for Musicians based on several factors, including experience, reputation, and geographical location. "Being a Jazz Musician has never been financially the greatest option," Janklow says, "but I think, in this day and age, you have to get creative — not just musically, but business-oriented creative. Build different opportunities for yourself and how to market yourself.
"Do a good amount of studio work, teach, produce people, work with different people." Since most artists take on a number of roles within the music industry, it can be difficult to separate the different strands of income. If a Jazz Musician is performing at a club, for example, he or she may have a guarantee that states they'll receive a certain amount of money.
At other times, he or she will receive a varying figure based on ticket sales. If they're performing with other Musicians in the studio, they might have an hourly rate or a pre-negotiated fee.
Janklow adds, "Sometimes I'm not making the best money and sometimes I'm making great money. Be conscious of who you invest in and how you invest in yourself to create more opportunities because not many people are making that much money selling records. That doesn't mean you shouldn't make records or videos because that can create more opportunities for you to play and reach other people to play with.
"At this point, for young Musicians, I think the investments are more long-term instead of just reaping the rewards right away. You have to think about growing your brand and your name over time. I think it's really important to do sideman gigs; I play with a lot of different big bands and orchestras.
"It's really important to take all the opportunities you feel you can grow from and that will help you stay afloat financially as you continue to invest in who you want to become."
Career Outlook
Whether they're practicing on their own for hours on end or collaborating with others in the studio, Musicians work hard. "Most of the time I'm working," Janklow says. "I'm lucky to be working as a professional Musician but I do need to say no to stuff sometimes, just because I need some time to have my own personal life and be dedicated to my own practice schedule.
"It is kind of hard to strike a balance once you have a reputation as a professional Musician. You have to learn your own boundaries. Everybody has their own boundaries and their own work schedule they can handle. I keep myself very busy but I do have to keep that in mind."
Career Path
The definition of career advancement varies widely, depending on where a Musician is in his or her career. It's common wisdom that making enough money to pay the bills by playing music is difficult, so for most artists, being able to make make a living solely from playing music is the goal.
Nationwide, there are thousands of Musicians who make a comfortable income through performance and other music industry gigs such as teaching or producing, but who are not household names. Of course, for many artists, landing a record deal and touring the country playing sold out shows is the pinnacle to which they aspire.
How an up-and-coming Jazz Musician can find gainful employment depends on his or her training, skill set, and level of activity in the music community. Janklow explains, "For somebody who's just out of school, really take a hard look at if you want to continue being in school and how that will benefit you. Are you just doing it to put off your professional career?
"I know a lot of people stay in school, pursuing a doctor's or a master's — and for some people that's right. It's very important to focus on how you want to pursue your career in music, so be smart about it. Even if you do pursue a master's, be focused on growing your own identity and career even before you get out of school.
"Start looking at ways to stay ahead of the curve instead of just getting out of school and being completely dumbfounded by 'What do I do now?' Just try to be a part of the community and stay ahead of the curve in terms of finding work and opportunities."
"Definitely go to multiple jazz shows. Check out the venues. Try to find a local jazz club you know has different bands playing; go see those shows, talk to those Musicians. Ask them which recordings they were influenced by, start collecting or downloading them and learn the repertoire. Obviously, you have to have a technical understanding of your instrument before you approach learning the music, but don't let that hold you back. Learn the vocabulary for those records.
"Find people you can develop a musical relationship with. It doesn't have to be a gig; it can just be a jam session at your house. It can be two to three guys or women you enjoy making music and listening to music with. It's a very social art form so the more ways you can involve other people in your practice is important.
"Find a restaurant or place you can perform and develop yourself. Performing is important. Make sure to have a repertoire built up because people call out songs and there are so many songs to know. Often people will ask you, 'Do you know this song?' and [when] you're like, 'I haven't played that one in a while' or 'I don't know that song,' you don't want that to happen. You don't want to be reading music on stage so the more you retain in your memory, the better."
Experience & Skills
"Aside from practicing and getting really confident about your instrument, there's a social skill set that's really important," Janklow says.
These skills can be gained through "going out and being part of a scene and a community, supporting the artists you want to support, going up and talking to them and learning from them. My growth as a Musician has benefited from going to see Musicians I admire and seeing how great of people they are.
"I learned how to shape and form my social impression about what Musicians are like and how they interact. There's a lot to learn just from being part of the culture and not just locking yourself in the practice room. There's time for that, too — I do practice anytime between two and six hours a day when I'm not in the studio, on the road, or teaching. It's really important to keep practicing, keep growing."
"The personalities that really succeed are the people who have a strong dedication to what they believe in and a strong integrity in how they view music," Janklow says.
He adds it's "also people who can take direction and criticism well. I think to be a great leader you need to understand how to be a great follower and in this industry, I'm not always the leader. Even when I am, I'm very open to what my band has to say and what they bring to the table. It's the give-and-take.
"I've learned this from working with incredible artists. They're strong but they're also flexible, adaptable, and positive. I can't stress enough that being a positive person in this industry is really important because it's very challenging.
"There are moments when there's a lot of pressure and some uncomfortable situations as far as having to deliver under pressure, having a deadline, or learning music that makes you uncomfortable because you've never played in the time signature or whatever. You have to step outside of your comfort zone and keep growing and being determined."
Education & Training
Many college, university, and conservatory music programs offer degrees in Performance or in Jazz Studies. Janklow says, "If you're an instrumentalist, I'd recommend diving into disciplined classical training and really learning classical techniques and repertoire.
"If you're interested in studying jazz you've got to dive in headfirst and study recordings, transcribe recordings, emulate and really learn vocabulary on recordings. (If you want to be in the folk or the R&B scene, you have to do the same.) In my background, there was an emphasis on learning how to play the instrument well.
"I'm a multi-instrumentalist and if I didn't study classical techniques on how to get a great sound and [if I didn't] have facility and technique that allow me to play freely when I'm improvising and playing with other Musicians, I wouldn't be able to do it at a high level with an artist I've never worked with before and have the technique to interact with them.
"I think a lot of Musicians wants to skip all that hard work but I say don't skip it, get into it and as you go get a disciplined technique, focus on your tone, know your scales and the technical expertise you'll need in every musical setting, not just pop or jazz music."
Additional Resources
Many professional and networking associations exist for the benefit of professional Musicians. Helpful resources include the Jazz Foundation of America, the American Federation of Musicians, and various local musicians' unions such as LA's Professional Musicians Local 47 or the Associated Musicians of Greater New York.
Janklow stresses the importance of social networks for aspiring Jazz Musicians.
"Social media has really been helpful for me to reach people globally," he says. "I think it's really important to have a strong presence on Instagram, Facebook, and Twitter. If you pursue teaching from home, look into developing relationships with students you can teach via Skype. Growing a presence on YouTube and creating a website is really important. Have a strong online presence so you have one place you can send people that has all your videos and your contact info."
Sources
Danny Janklow
Danny Janklow is a Los Angeles-based Saxophonist, Multi-instrumentalist, Educator, Producer and Composer. While still in high school, he was recognized by Wynton Marsalis and the Lincoln Center Jazz Orchestra as the first-ever triple instrument "Outstanding Soloist" on tenor saxophone, flute, and clarinet.
While living on the East Coast and attending Philadelphia's Temple University Boyer College of Music, he performed at legendary venues like the Village Vanguard (with the Vanguard Jazz Orchestra), the Kimmel Center, the Harlem Apollo, and Dizzy's Club Coca-Cola.
He has performed alongside Kendrick Lamar, Stevie Wonder, Herbie Hancock, Wayne Shorter, George Benson, Aloe Blacc, Jose James, Wynton & Branford Marsalis, Benny Golson, Eric Reed, Ben Williams, Jason Moran, Wallace Roney, Savion Glover, Vanguard Jazz Orchestra, Bill Holman Big Band, John Beasley, Gordon Goodwin, and Jimmy Heath. Janklow performed as part of John Beasley's Grammy-nominated MONK'estra project.
He is a member of the Los Angeles Philharmonic. He uses Vandoren products and is featured in VandorenTV's series.
His music has been reviewed by Downbeat, his rising career has been profiled by the Los Angeles Times, and his recent works can be heard via BandCamp.