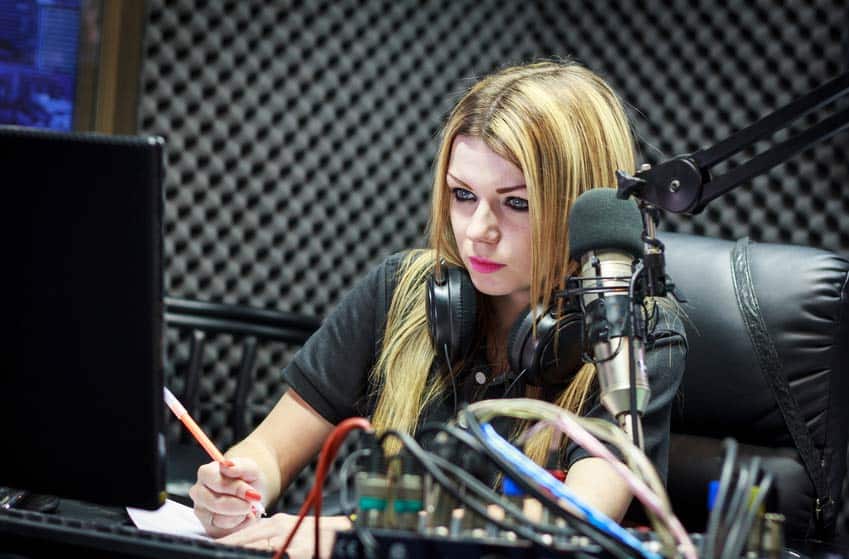 How To Become a Music Director
Career Description
The main job of a radio station's Music Director is to find the right music for the station, but it's more complicated than just picking quality music.
J.B. King, the Music Director/Program Director at 98.5 KLUC in Las Vegas says, "What my job entails is making sure of the music that's available to us, that we're finding the right music our audience wants to hear, which generates the best ratings, which in turn helps our sales department sell airtime."
Many Music Directors also work as Radio DJs, and depending on the size of the station, the position may or may not be combined with that of the Program Director. If both positions are not held by one person, the MD and PD will work closely together. The Music Director will also work in some capacity with the station's Promotions Staff or Sales Staff.
Salary
The average annual salary for Music Directors is approximately $43,100. The salary range for Music Directors runs from $24,000 to $55,000.
The role of Music Director is a salaried position. Annual earnings can vary greatly depending on the size of the station, the size of the market the station is in, public or for-profit station status and the MD's own professional experience.
What is a Music Director's salary?
The average annual salary for Music Directors is about $43,100 and range from from $24,000 to $55,000. It's almost always a salaried position.
Annual earnings for a Music Director can vary greatly depending on the size of the station, the size of the market the station is in, public or for-profit station status and the MD's own professional experience.
Career Outlook
In spite of having regular set office hours at the station, this is not a simple 9-5 job. The MD spends a lot of off-the-clock time researching new music and keeping up with the trends, as well as building relationships with music industry figures at social events and concerts, which he or she will frequently attend. This can lead to some late nights.
What is the single biggest suggestion you would give to someone wanting to get into this career?
"Have a passion for radio and find a job at any music station they can."
What's the #1 mistake people make when trying to get into this career?
"Listening to the radio station and thinking they know exactly what it takes to be a Music Director or DJ. Not knowing what it actually takes, having a preconceived notion."
What is the question people should ask about this career but rarely do?
"If they're willing to spend the time to work hard to get the position they desire. Very few individuals walk into a station and get the job they want, especially if they don't have experience."
Career Path
Most Music Directors usually start their career path by working in several entry-level positions at a radio station, gaining experience through employment as a DJ, Promotions Staffer, or Assistant Music Director. Advancement in this role could mean taking on the position of Program Director or Station Manager or getting hired to work at a bigger station in a major market.
To get on the career path to landing a job as a Music Director, get a foot in the door by applying to any available entry-level position. King advises aspiring radio professionals "wherever they are to try to get involved through an internship, through college, find a part-time job working on a street team within a promo department. Sometimes they're looking for assistants."
"Have a passion for music.
Contact a radio station you like and see if there's an opening for a part-time job in any department to get in the building. [People who do this] express an interest and are given a chance."
How do you become a Music Director?
In order to become a Music Director, you need to work multiple entry-level positions at a radio station(s). Literally any position or internship will do ‒ it's just about getting in the door. Over time, you'll gain experience, learn from the DJs, promotions staff personnel, and even the current Assistant Music Director or Music Director. The more knowledge and experience you get of the radio broadcast industry, the faster you can get new positions that could lead to a Music Director role.
Here's where you can start: Contact your local radio stations and ask if they have any openings for entry-level positions or internships, or if you could shadow somebody who works there.
Experience & Skills
Broadcast industry work experience is necessary for anyone who wants to become a Music Director. When searching for that first gig in radio, the position doesn't really matter as much as making the connection and proving your dedication.
King says it's important to "just find a job in radio so that you can get into the building. There are usually many people who would love to teach you what you want to learn."
This experience can only be gained through hands-on training through work at a station, and competition for open positions can be strong. Once you've landed an entry-level job, however, King says, "We can teach anyone who wants to learn. What we use [in radio] is not the day-to-day music programs people use at home."
He also states the importance of understanding the business side of the broadcasting industry in addition to being a music lover. "Have a passion for music and radio: those are two different things. What we do in radio is generating ratings to generate revenue. Some people love music and just want to play music." A successful Music Director will need to combine that appreciation for music with solid business sense.
To be successful, the MD must be the type of person who is always up on musical trends and always exploring.
King says, "Nowadays music and new music is constantly available. Ten to fifteen years ago, music was available only when record companies decided to release it."
The proliferation of home studios and the popularity of YouTube means people can get signed quicker and their music can be more immediately accessible. Therefore, the MD has to have a strong sense of what will be popular among the station's audience.
"We do get music from record labels, but we're also looking at social media; if there's something trending that goes from 500 views to 5 million in a week. We look at everything we can to find music," he adds.
What skills does a Music Director need?
To become a Music Director, you need broadcast industry experience, meaning you need to have worked at a radio station. Simply getting a position at a radio station is a great first step, regardless of your responsibilities. Often, people who work at radio stations are willing to teach you what they know.
To climb your way to the position of Music Director, you need to be a music lover and always be aware of what music is hot and trending. It's also very important you know the business side of broadcasting.
Education & Training
Although a degree is not a requirement for the job, King advises "at least experience college because it gives you the option of finding out what you want to do." College experience can also give the aspiring radio professional access to opportunities like for-credit internships at local stations, or student jobs at campus radio stations.
Additional Resources
Several professional networking and support organizations exist for radio professionals, with the National Association of Broadcasters being one of the most well-known. These groups provide valuable opportunities for radio professionals; however joining immediately might not make sense for someone just starting to build a career.
King advises students to first focus on building their work experience.
If you could describe in one word what makes you successful, what would it be?
"Passion. Plain and simple. Passion."
Sources
J.B. King
J.B. King is an On-Air Personality, as well as Program Director and Music Director at KLUC in Las Vegas.
His radio career began in Sacramento, with stints in San Francisco and Phoenix. He has been the recipient of several awards, including an EMA Award for "Best Show in Las Vegas," a "Most Promising Programmer" nod from FMQB, plus multiple "Music Director of the Year" honors from S.I.N. Magazine, Billboard, the Gavin Report and Hitmakers Magazine.
King has been featured in Inside Radio, Talkers, Radio Ink, and All Access.