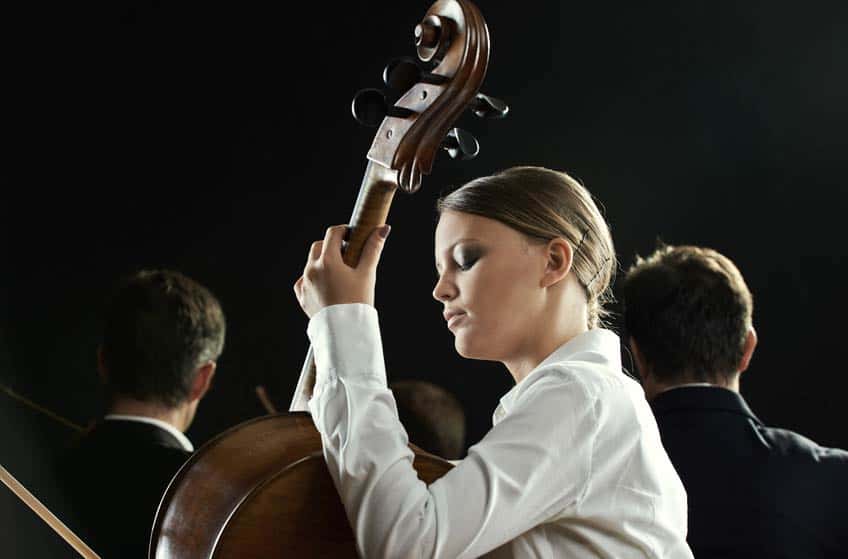 How To Become a Section Leader
Career Description
Carey Bell is the Principal Clarinetist (or Section Leader) with the San Francisco Symphony. He explains, "In an orchestra, the Principals of each instrument are the 'soloists' of their instrument. 'Soloists' not in the sense of playing a concerto; it's the person generally heard playing a particular instrument when a solo passage for that instrument occurs in a symphonic work.
"As one of the woodwind Principals in the San Francisco Symphony, an essential part of my job is to be the voice of the clarinet, to provide a momentary impression or a prolonged soliloquy. Orchestral solos are often very brief or intertwined with other instruments' solos. Sometimes there are longer, more narrative solos that can require great control and expression."
"The Principal must always be ready to best represent their abilities, from technique to sound to communication. That also means being able to perform well under pressure. Because I play a reed instrument, part of my process behind-the-scenes is making sure I always have a good assortment of reeds, preferably ten to fifteen, some newer, some older. Reeds define much of our sound production and our agility and control."
As members of the orchestra, Section Leaders perform with and work alongside Section Members, the Concertmaster, and the Conductor. They also work with operations, artistic, and administrative staff, such as the Director of Educational Activities, Stage Manager, and Orchestra Manager, as circumstances dictate
Salary
The average annual salary for Principal Players/Section Leaders is approximately $66,800. The salary range for Principal Players/Section Leaders runs from $33,000 to $113,000.
Like all orchestral performers, Principal Players receive a regular salary. Those employed by well-funded orchestras also receive benefits like vacation pay, health insurance, and sick time. The amount one can earn varies greatly, based on the prestige (and budget) of the orchestra. Often, additional income is derived from royalties earned on recordings, from touring, or from teaching.
Let us know which career you are most interested in. Start hereStart here
Career Outlook
The work lifestyle of a Principal Player is busy, especially during the performance season. Bell explains, "The San Francisco Symphony is performing at least one new program each week, generally three to four concerts, mostly evenings but also some matinees.
"Depending on the week, it may be morning kids or family concerts; a later evening show at Soundbox, our hip new performance space; a live music-with-the-movie show; holiday-themed concerts; national and international tours from one to four weeks long."
"For standard orchestral concerts, we usually have three to four rehearsals that last two to two and a half hours. For other concerts, sometimes it's just the one rehearsal. Weekends we often have a Saturday morning rehearsal, and generally, my Friday and Saturday nights are busy."
Often Sunday matinees as well. There's a lot of time off, but many orchestral players teach as well. I teach at the San Francisco Conservatory of Music, so I devote some of my off-time to that. And then there's practice!"
Career Path
Principal Players usually start off as Section Members. Many start their performance careers in college or community orchestras, landing gigs with more prestigious orchestras as they gain experience and critical acclaim.
As has been mentioned above, most Principal Players began their careers as Section Members of college and community orchestras, working their way up as their performance abilities improve. If they play with an orchestra with a smaller budget for employee compensation, some artists may have to take on other jobs in the music industry to support themselves.
Bell advises, "It's always a great idea, if you are considering a career in music, to have plans A, B, C, [and so on] available and ready to go.
"Teaching is always a good idea, not only for the income but for the opportunity to 'practice what you preach' and become a better player by helping others be better players. Music is a vast arena; there are so many ways to go."
"I was lucky that I won a job as Principal with a full-time orchestra (the then Syracuse Symphony Orchestra in Syracuse, NY) in my early twenties in 1998, so I have always had the luxury of a full-time career. It does not always work out this way. I was thinking about leaving Syracuse by the time I was thirty after a couple of years working there."
"I wanted to live in a big city, and I was willing to move to New York City and begin to make a living as a gigging musician without a full-time situation. It is a common experience that many make a good living this way, but it can be a lot of work and changing work environments."
"Initially, I think summer music festivals are a great way for the interested orchestral player to hone their craft and gain experience. So much of orchestral playing is indeed performing, and you must get used to your reactions during performance. Also the performances at your school's orchestra, youth symphony, etc.
Get used to performing under pressure! Realize that the pressure is not life-or-death.
Also, auditions are a large part of our reality, and so we must put ourselves in that reality often enough to become used to it."
Experience & Skills
In regards to the experience necessary to net a role as a Section Leader, Bell says, "Anyone who decides they want to be a Principal needs to engage in as much performance as they can, especially solo performance. (Recitals, chamber music, summer music festivals that highlight orchestra or chamber playing, solo competitions, etc.)
"Also, take some auditions. I took my first audition as a junior at Michigan for 2nd clarinet in the Ann Arbor Symphony [and] got to the semis. The summer after I graduated I participated in the Carl Nielsen International Clarinet Competition in Odense, Denmark. I came in 5th, under the finals, but I learned so much from hearing such excellent and varied clarinet artistry."
"It is not solely about winning, it is about growing. At some point, however, if you want to be a Principal in an orchestra, you do have to win the audition and gain tenure in the orchestra. You draw upon all of your prior performance experiences to acquire that title."
When asked about the type of personality that thrives as a Principal Player, Bell says, "In my opinion, human beings are too varied a species to best answer this question generally. A really basic (and unsatisfying) answer would be something like, 'Someone who likes attention.' From a purely personal standpoint, I liken it to wanting to be like Orpheus, the mythical Ancient Greek musician-poet who could charm the living and inanimate alike with his music.
"Music is sculptured time, but within its duration, we have the ability to suspend the feeling of time passing. It's really about drawing the attention away from an 'everyday' visually dominated sensory input and toward a purely aural experience, a profound change."
"It's why music is so very captivating, in any of its forms. To be able to stimulate the imagination with a momentary lush clarinet sound, or to take someone on a personal emotional excursion through a more extended solo, that is the kind of attention I like to have."
Education & Training
Students who know early on that they want to have a career in performance are at an advantage, simply because they have more time to train on their instruments and study music. Most Section Leaders have degrees in Instrumental Performance. "Since I was one of those young people, I can share my experience," Bell says.
"I was lucky in a sense, in that I knew by the time I was a freshman or sophomore in high school I wanted to have a career in music, most likely as a clarinetist but also as a Composer. I was also very lucky to have been raised in a community that fosters (and can afford) the arts, with parents who championed my musical interests."
"As a high school senior, I auditioned at a number of conservatories and universities. I had a dual interest in Clarinet Performance and Composition, [so] I was looking for a school that offered excellence in both fields."
"Because I was primarily interested in orchestral playing via my clarinet, I chose a Teacher, Fred Ormand, who is well-known for his work with orchestral excerpts, as well as being a renowned instructor in general."
"I went to the University of Michigan, Ann Arbor, although I applied for, and got in to, music conservatories as well. It's important to not over-emphasize the importance of a school's name. It is about the instructor and the performance opportunities the school provides. A great idea is to, if possible, schedule a lesson (30-60 minutes) with the Teacher(s) for whom you are auditioning, to see what kind of rapport you have."
Additional Resources
Many orchestra professionals recommend checking out the League of American Orchestras, which offers conferences, events, educational opportunities, and a nationwide network of performers, Conductors, and administrators. Principal Players are members of the American Federation of Musicians, another worthwhile resource.
FAQ
What is the single biggest suggestion you would give to someone wanting to get into this career?
"Find ways to consistently and efficiently produce an excellent product without hurting yourself. Relaxation over rigidity."
What's the #1 mistake people make when trying to get into this career?
"I'm not sure I'd qualify anything but a missed note, a squeak, or a botched rhythm a 'mistake'. A lot of the rest of it is attitude and focus. For myself, I have done best at auditions where I did not focus on some future reality with me having won the job, but instead where I purely focused on my abilities and my eagerness to demonstrate them, even under pressure."
If you could describe in one word what makes you successful, what would it be?
Sources